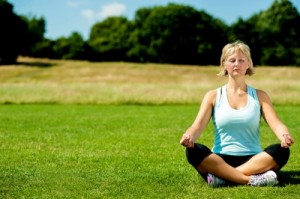 Can meditation be an serious alternative to medication in helping you manage back pain? If you are suffering from chronic back pain, there is increasing evidence you could benefit from mindfulness meditation.
Several studies have found mindfulness meditation a useful tool for sufferers of physical and mental ailments in increasing calm and well being and helping reduce feelings of pain.
What is mindfulness meditation?
The concept of mindfulness meditation is centred around the idea of being 'in the moment'. The human mind has a tendency to skit about projecting our thoughts forwards and backwards in time, pondering on what we've done in the past and worrying about what may happen to us in the future.
Mindfulness mediation brings you back to your current point in time and helps you be present in what you are experiencing in the here and now.
It may seem counter intuitive to focus on the current moment if pain is what you are feeling. You may even suggest it would be helpful to not focus on the moment and take your mind away from the situation. However, fighting against the pain may cause ever greater suffering.
Being 'mindful' is about paying attention to your feelings of pain as they arise and nurturing a calm curiosity rather than trying to engage or fight against the feelings.
To understand why, it helps to first understand the two different types of pain: primary and secondary.
Primary pain is the pain you feel directly from the injury, the immediate physical sensation caused by your back or neck pain.
Secondary pain is the suffering you experience as a result of the primary pain. This may be other types of physical symptoms or it may be emotional symptoms associated with experiencing the primary pain.
For example, when you think about the pain in your lower back, your perception isn't just the feeling of the pain from the injury. It is built-up of our memories of previous times you have felt the pain, the worries around whether you'll feel the pain again and the anticipation of further pain. As time goes by, more layers of emotion and stress are added to our perception which our brain taps into when the primary pain triggers the feelings.
Mindfulness meditation allows you to be more aware and responsive when pain arises, purposefully paying attention to the pain without judgment. By doing this, secondary pain is reduced and, in the long term, overall perception of the pain may be reduced.
What evidence is there supporting the claim mindfulness meditation helps manage pain?
More people are waking up to the benefits of a practice which has been used by Buddhists for 2,000 years, yet has not been recognised by the medical establishment until recently. It's only now when medical science – and the study of neurology, in particular – has finally been able to explain how it works that meditation is being taken more seriously.
Last year, the Nice (National Institute for Clinical Excellence) approved the use of mindfulness meditation on the NHS in treating depression.(1) and a University of Oxford study found mindfulness significantly decreased the chances of relapse and recurrence in depression patients (2). The Guardian reported in February 2014 that practising mindfulness among breast cancer survivors led to "increased calm and well being, better sleep and less physical pain"(3). It noted this was its largest trial to date with the results published in the Journal of Clinical Oncology.
In terms of back pain, a pilot clinical trial in the US of older adults suffering from chronic lower back pain found mindfulness meditation had beneficial effect on pain, attention, sleep and well-being (4). Participants also reported long-term effects on their quality of life.
In so many areas, the benefits of mindfulness meditation are being felt. With the Winter Olympics on, it is worth noting mindfulness meditation is being increasingly used by elite athletes.
It is commonplace now for elite teams to turn to sports psychologists and mindfulness meditation techniques to focus on their form when competing. The whole idea of focusing 'in the moment' allows competing athletes to block out all the noise of their competition, fears about their performance and the effect it will have in the future, to focus on what matters, achieving their immediate goal.
How does mindfulness meditation work?
Different practitioners of mindfulness meditation have different ways of working, although there are common themes.
First of all, don't worry if you think it's going to be all 'omm'-ing and chanting Buddhist mantras. Although much of the mindfulness concepts are common to Buddhism, you don't need to subscribe to Buddhism to benefit from the practice of meditation.
Breathing, and learning to focus and control your breathing, is a central facet of mindfulness meditation.
Although courses in mindfulness meditation tend to run between 6 to 8 weeks, it is intended to be used regularly and whenever you need it. Regularly practising mindfulness meditation will reap long-term benefits and many suggest it offers a holistic way to improve your life from pain management to spending better time with your family and friends.
How do I find out more?
We understand how mindfulness meditation may be able to help you and we're adding it to our range of offerings at the practice. In conjunction with Mindfulness Meditation Coach Tanya Forgan, we're hosting a Mindfulness Meditation for Health 6-week workshop from 25 February.
The course will teach you how to manage pain, illness or fatigue, breathing techniques to help bring your focus back to the moment, relaxation, mindful movement and help you develop awareness of your breath and body. Overall, the aim is to help you enjoy a fulfilling life, regardless of your condition.
The small group session is almost fully booked, so please hurry if you would like to book a space. Places can be booked here.
 Image courtesy of stockimages / FreeDigitalPhotos.net
Sources: