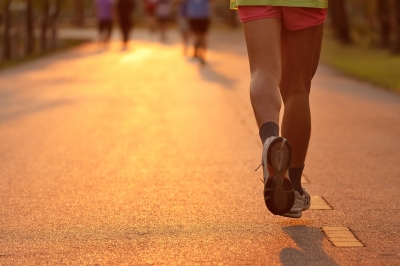 For a runner, the changing of the seasons from winter to spring means more than an end to struggling through cold, dark nights and character-building training runs in the rain… it means race season. With most of the major marathons staged in spring, including the Virgin London Marathon and Brighton Marathon, it's right about now most runners' training will be hitting its peak.
And, as your training load increases, so do the chances of sustaining an injury.
If you're training heavily for a spring marathon or race, it isn't uncommon to suffer from some heel pain. This could be a problem known as plantar fasciitis (pronounced plan-tar fass-see-eye-tis), a well-known issue for runners. (1)
What is plantar fasciitis?
The plantar fascia is a thick band of tissue running across the bottom of your foot connecting your toes to your heel. It's a really tough piece of tissue and it needs to be, as it acts as a shock absorber for your foot.
It does its job terrifically well, but can be damaged several ways, such as through:
Constant pressure on your feet, from standing or walking all day
Changes in your activity, from doing nothing to starting jogging
Changes in your weight, putting extra pressure on your feet
Wearing unsupportive footwear
The damage may occur suddenly or it may happen slowly over time, with small tears occurring inside the tissue causing it to thicken. This thickening is what causes the pain in your heel. (2)
How do I know I have plantar fasciitis?
The pain feels like a stabbing pain on the sole of your foot just beneath your heel. It feels different to the soreness caused by friction or an aching foot; there's a distinct feel to heel pain caused by plantar fasciitis compared with other pains.
Some runners describe the feeling of plantar fasciitis as being as if something is tugging on the inside of your heel. Others describe it as feeling like a pin or nail being pushed into your foot. It's fair to say, it's not the most pleasant of sensations. The pain will feel very localised and will hurt to touch; you will be able to pinpoint it with your finger.
The pain is usually worse after periods of sitting or laying down, when the pressure is off your feet. It will tend to be more pronounced in the morning when you first get out of bed and will ease off as the tissue warms up and softens.
If you suffer from plantar fasciitis and run your fingers across the bottom of your foot in the affected area, it may have a really strange bubble-wrap feeling to it or feel excessively taut.
How is plantar fasciitis treated?

As a runner, you may be nervously asking the question: "does it mean I have to stop running?"
The good news is 'no'. And, in the majority of cases, plantar fasciitis usually goes away in time. If you are suffering from heel pain, however, living with it for a year or more may not sound like your idea of fun, so there are ways of  relieving the symptoms.
For runners, there is a very good reason to deal with the problem. Heel pain may cause you to run with a slight limp, which in turn puts pressure on other parts of your body. It isn't uncommon to find secondary injuries in runners because of the way they've changed their running style to cope with foot pain.
Another common question around plantar fasciitis is "don't I need an injection to get rid of plantar fasciitis?"
Again, the good news is 'no'. Although steroid injections have been used to treat plantar fasciitis in the past, there are now many ways of treating the issue non-surgically which  effectively resolve the problem.
Aside from resting as much as possible, you can treat plantar fasciitis in several ways (4):
Changing your running shoes regularly – worn out shoes with little shock absorption quality remaining in the shoe may contribute to additional stress being placed on the fascia
Applying ice to the affected area – has been reported to relieve the pain temporarily
Rolling a cold can or tin back and forth under your heel may relieve the pain
Stretching exercises – as a way of relieving and preventing plantar fasciitis
Have a course of laser therapy – this has been found to be as effective as steroids or anti-inflammatory medication with none of their side effects (5,6,7).
We would be happy to discuss these various options with you – call us on 0118 9787 466 to make an appointment or visit our website to book online.
For a list of recommended exercises to help treat plantar fasciitis, download the Royal National Orthopaedic Hospital's Guide To Plantar Fasciitis here.
These may help relieve the issues but if you continue to feel heel pain, it is worth considering help to keep you running.
Runners needn't suffer from plantar fasciitis and there are ways of treating not just the symptoms but working to resolve the underlying causes. This is important in preventing further damage and future flare-ups.
Of course, plantar fasciitis doesn't just affect runners. It is also common in older adults, people who are at risk of obesity and pregnant women. (8) At Wokingham Chiropractic we love to help sufferers of heel pain to get back on their feet.
If you would like to find out more call us on 0118 978 7466.
Sources: